FUSED CELLULAR MIRROR BLANKS
(APPROXIMATE MEASUREMENTS)
DESCRIPTION
| | | | | | |
| --- | --- | --- | --- | --- | --- |
| DIAMETER | FACE THICKNESS | THICKNESS | WEIGHT | F/D | PART# |
| 16.00 | .620 | 2.67 | 36.00 | PL | FCM1600 |
| 18.00 | .750 | 3.00 | 51.00 | PL | FCM1800 |
| 20.00 | .750 | 3.25 | 58.00 | PL | FCM2000 |
| 24.00 | 1.000 | 4.00 | 122.00 | PL | FCM2400 |
| 30.00 | 1.000 | 4.60 | 208.00 | PL | FCM3000 |
| 36.00 | 1.000 | 6.00 | 376.00 | PL | FCM3600 |
| 39.00 | 1.000 | 6.50 | 448.00 | PL | FCM3900 |
Other*
Fused cellular mirror blanks can be supplied with flat face and back plates (plano-plano blank) or with the face plate conforming to a desired radius. If the cellular mirror blank is sagged to the fabricator desired radius, it should be understood that the back plate will also approximate the curvature of the face plate.
In general, the fused blanks will have a face plate and a base plate with a fused cellular grid pattern between them similar to the illustration below. The spacers forming the grid pattern are usually thicker than the face and back plate by approximately 1/8 of an inch or more, e.g., the spacers/ribs of an 18 inch blank would be approximately 0.875 inches in thickness.
FUSED CELLULAR MIRROR BLANK
(APPROXIMATE RIB GRID PATTERN)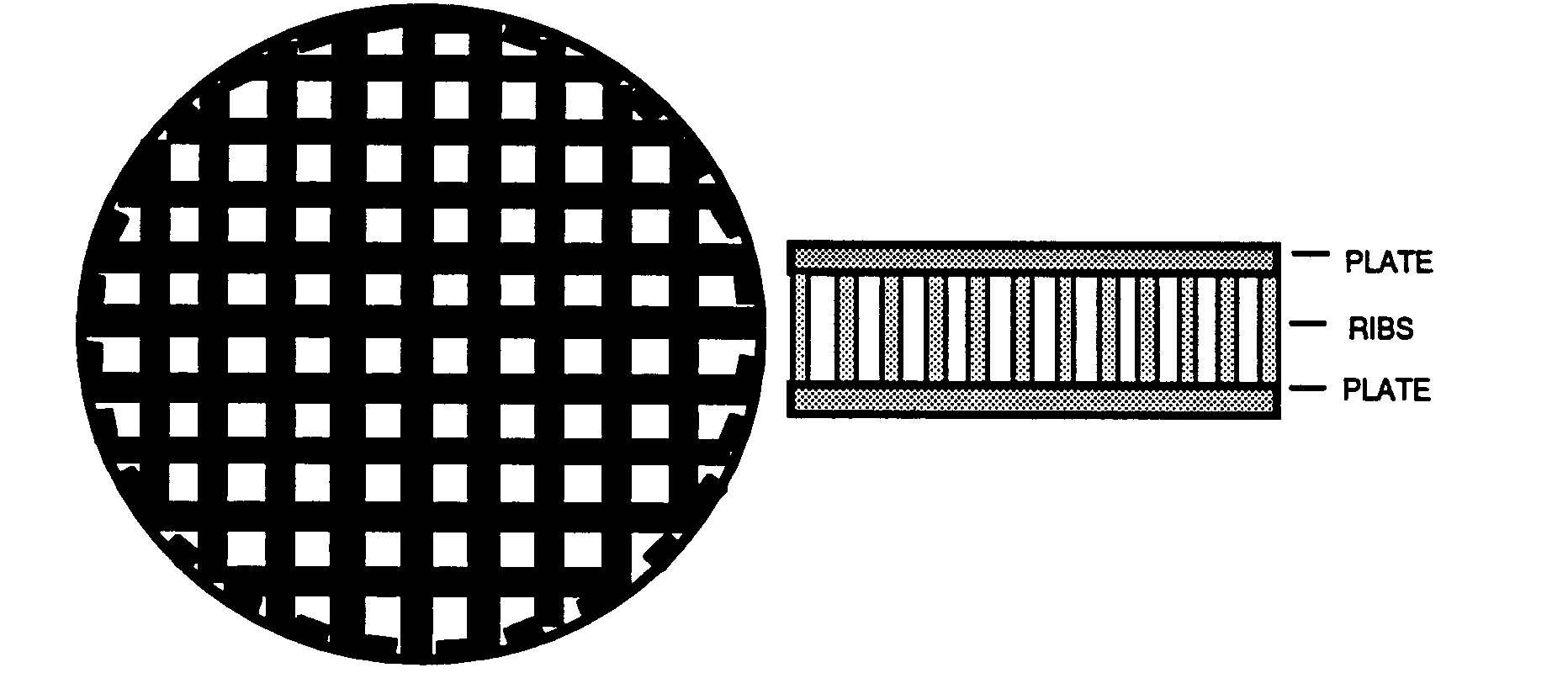 TOP VIEW
If the fabricator desires the mirror to be sagged to given radius, then we invite the fabricator to contact us for a price quotation and a list of radius tools that Newport currently has available for forming the mirror on. If the fabricator can utilize an existing tool then the price of the part will be as those reflected in the price list. Fabricators requesting curves for which tooling is not available will be subject to an additional charge over those stated in the catalog. Please submit a drawing of the blank desired with all the necessary details to facilitate the quotation process.
Cautionary Warning:
Please note that cellular mirror blanks are not recommended for a person who has not polished glass or mirror blanks before.
Because the face plate is relatively thin, we recommend that you discuss your goals with the Newport staff or someone who has polished this type of mirror before. The fabricator may experience disappointment if he/she attempts to grind a curve beyond a given sag in a plano blank or if the fabricator grinds the face plate too thin. Historically, fabricators have indicated that if the face plate becomes too thin, the cellular matrix will be discernible on the surface of the face plate or the surface will remain distorted no matter how much effort is expended to correct the problem. Therefore, careful planning is a necessity before one attempts to polish a cellular mirror blank.
Custom Parts:
It should be noted that the fabricator is not limited to the cellular mirror blanks listed here but can have a cellular blank made to his or her specifications. Please submit a drawing with the dimensional specification to facilitate our quotation process.